ISBA Names School Board Member of the Year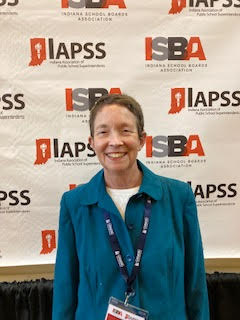 October 5, 2022 – Karen Springer, school board member for the West Lafayette Community School Corporation (WLCSC), has been named school board member of the year for 2022 by the membership of the Indiana School Boards Association (ISBA).

Springer received the Outstanding Boardmanship Award during a ceremony Monday at the annual joint conference of the ISBA and the Indiana Association of Public School Superintendents.

Springer was lauded as a champion of special learners, advocate for arts in education, and community servant of the highest integrity.

Springer has served on the school board of the West Lafayette Community School Corporation for 24 years, including two terms from 1996-2004 and four terms from 2006 to the present.

In 24 years, she has missed only four meetings. She is currently running for a seventh term.

"The focus is always the students and providing the best educational experience, so every student reaches their full potential," said Springer.

WLCSC recently ranked as having the best teachers in Indiana and as the best place to teach in Indiana. West Lafayette Jr./Sr. High School frequently ranks among the top one percent of all schools in the nation for STEM programming and curriculum.

Nearly 900 school board members and superintendents attended the 73rd Annual ISBA/IAPSS Fall Conference on October 3-4, 2022, at the Indiana Convention Center.
October 6, 2022
West Lafayette School Board Member
Wins State Award
WEST LAFAYETTE, IN - Mayor John Dennis would like to congratulate Dr. Karen Springer on winning the Indiana School Board's "Outstanding Board Member" award. In a year of profound personal loss, with the passing of her husband Jon of 40 years, Karen soldiered on for the kids of West Lafayette. Her 24 years of service as a Board member has been an inspiration to many. The relationship between the city and our award-winning West Lafayette Schools has never been better.
Dr. Springer has also served on the West Lafayette Parks and Recreation board for 20 years. The City of West Lafayette is proud to have such a committed volunteer. She is the epitome of a citizen's excellence in public service.